I know many of you can relate to the message in the rebus above! A fellow student challenger's post inspired me. Michaela's picture sentence made me think of a site that makes cool rebus puzzles.
Try making your own and other cool word art at festisite.com. The name for this fun site can be hard to remember, but I usually think of the word festival, which means a celebration or party. Then I can remember the name, for this site is a festival of word art!
Try all the fun stuff, but here are directions for using the rebus maker. When you first go to the site, you'll see this menu bar. Scroll over with the right arrow.
Next, choose Text Layout and Rebus:

Delete the default message.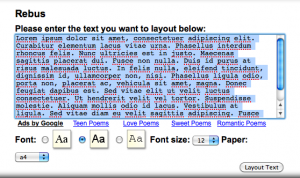 Add your own message and click on "Layout Text."
Your rebus comes up on a new screen…
Here is another one for you to try. Click on it to make it larger.
The second word in the last puzzle is "is"? Can anyone figure out why? I can't. Please leave a comment and explain if you can help us.
Also, after you decode it, please leave a comment to answer the question?
Visit a Glogster about Festisite.com for more fun!